MAXIMIZE your traffic, leads & sales with UNLIMITED Workspaces!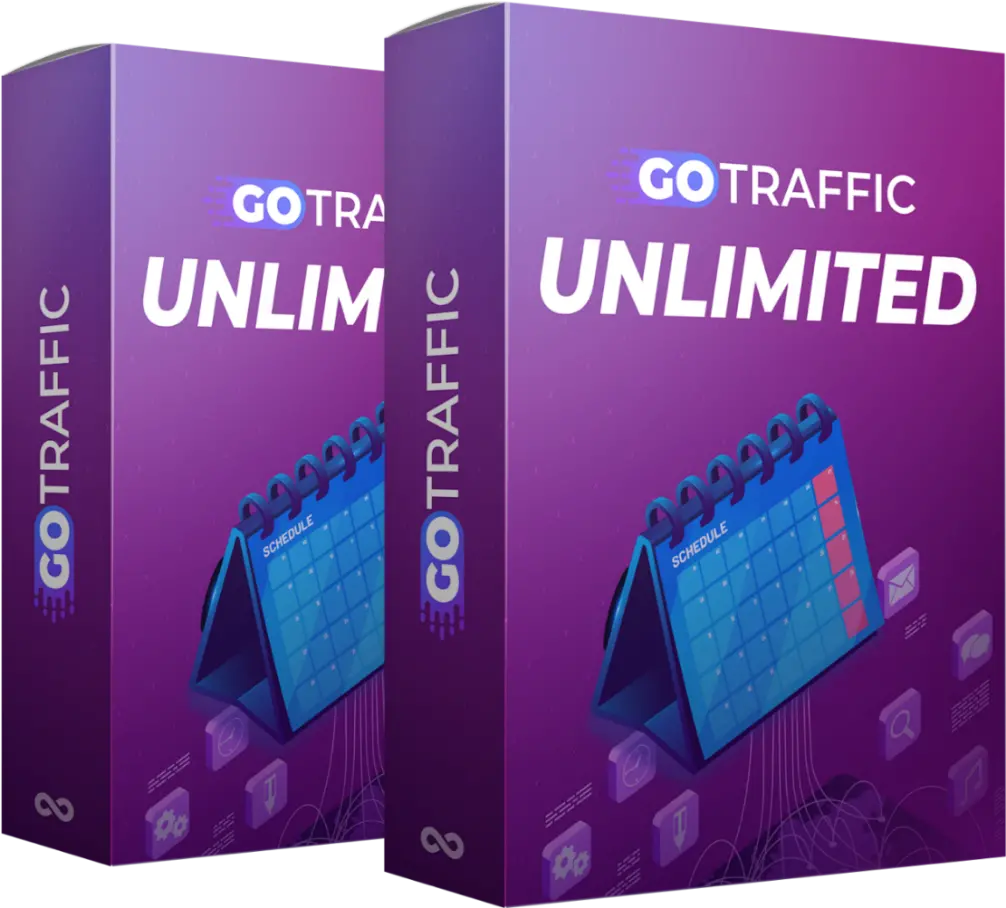 SKYROCKET your profits by creating UNLIMITED Projects per workspace
BOOST your engagement by making UNLIMITED social connections.
UNLOCK our UNLIMITED Content Library with over 20,000 prompts, all available at the push of a button.
SAVE BIG money as this upgrade unlocks ALL FUTURE updates offered - no need to buy V2, V3, or anything else!
Get UNLIMITED advanced use of our image editor, and create and sell as many images as you want!

Create as many Workspaces as you want. This applies to both your Workspaces as well as the ones you'd create for your clients.
Get high engagement and sales. Boost your profits by creating Workspaces for different businesses you launch.
With GoTraffic UNLIMITED, You Are In The Driver's Seat
Within GoTraffic, Projects allow you to run multiple campaigns under a workspace - giving you more flexibility. With each project, you can set up separate reporting for clients if you wish.
And 'The MORE the better' principle applies perfectly when it comes to running traffic projects.
Ok - this one is a no-brainer, and you ABSOLUTELY need it. Building and maintaining social network connections via API is somewhat expensive. We have given you 100 connections with the commercial offer. And with this upgrade, we go UNLIMITED.
There's absolutely NO restriction on how many pages, groups, etc., you can connect with.
New Features Before Everyone Else!
See, everyone who buys GoTraffic gets updates. But only UNLIMITED users get the advantage of seeing the new features at no additional out-of-pocket costs. 
So when we roll out GoTraffic 2.0 in 12-18 months, you won't have to pay an extra cent. You get new features instantly (before anyone else does!)
With the GoTraffic commercial license, you got the basic version of the image editor. With this upgrade, we unlock the ADVANCED version of this editor.
Unlimited workspaces with unlimited social connections would mean that you might need quick help whenever you want.
We have hired and trained extra support staff that is completely dedicated to servicing you. That is the new GoTraffic Unlimited customers and their clients.
Advanced Image Customization Properties
Brightness, contrast, saturation,
hue and many more customization
tools that will help you create
Enjoy FAST TRACK support for unlimited Workspaces from a dedicated team!
Congratulations on getting access to GoTraffic! Watch this quick welcome message to learn how you can make the highest possible profits with GoTraffic
Our team has created 800 new templates for you to use with this editor. This includes 200 FB post templates and 150 templates each for Twitter, LinkedIn, Reddit, and Tumblr
Make Your Income Potential Unlimited With GoTraffic UNLIMITED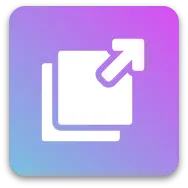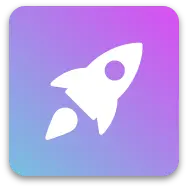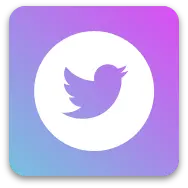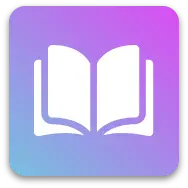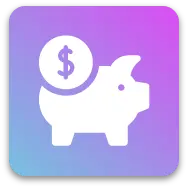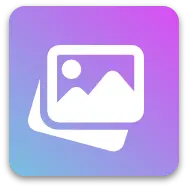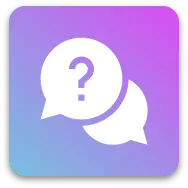 Go Truly UNLIMITED With GoTraffic Unlimited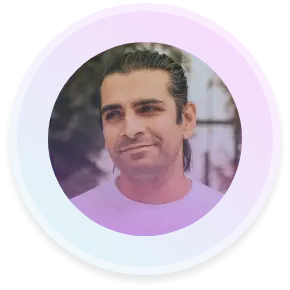 Hey, it's Neil again, and on behalf of the entire GoTraffic Team and myself…I want to welcome you to GoTraffic.
Generating social media traffic is a tiring process and can be a pain if not done right. There are just too many things to factor in, and the chances of things slipping out of control are very high.
We created GoTraffic keeping this in mind.
The GoTraffic team made it a point to make it completely fail-proof. With the built-in content, we made it easy for you not to get going ASAP! 
Before we brought GoTraffic to you, we ran several beta runs. Serving half-baked cookies is not the way we run things here.
The beta results came back and were simply amazing.
The users were pleased, particularly with the ability to use GoTraffic in MULTIPLE businesses (and for their clients) and the overall ease with which they could now automatically post on social media (including Facebook groups).
The only thing they wanted… MORE of it. They wanted to run MORE Workspaces, create MORE Projects and make MORE posts without being stuck to their computer.
The Commercial License allows you to sell traffic generation & social media services for big bucks. And it justifies this demand.
We pumped in an insane amount of extra money…to upgrade our system and created:





UNLIMITED Social Connections



Take Your Profits To UNLIMITED With…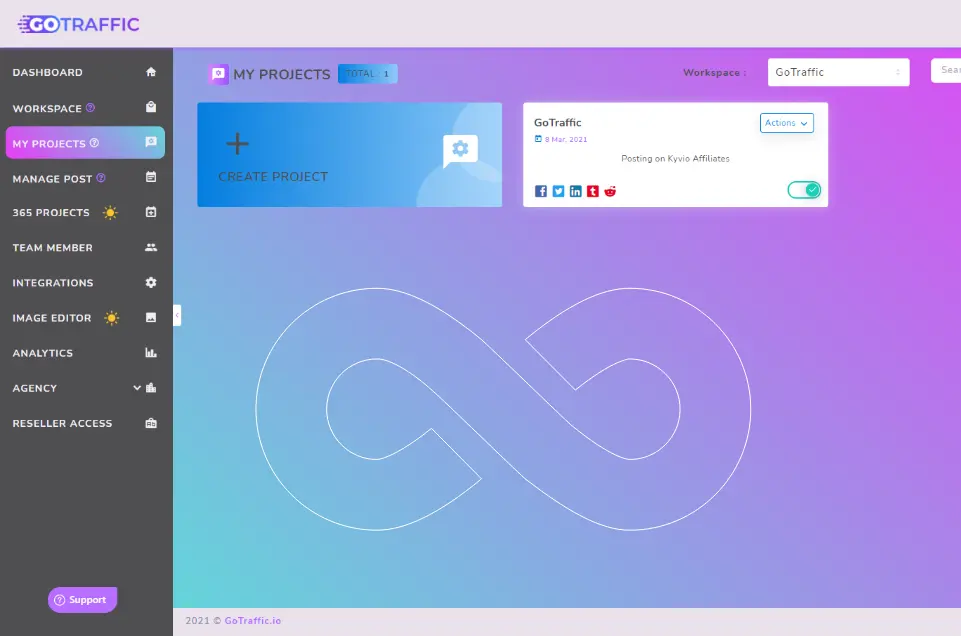 UNLIMITED Workspaces will help you:

Segment out your businesses so they can run without being affected by your other businesses

Multiplying your income potential by running multiple workspaces at the same time for different projects.

Never run out of new workspaces you can create. Now you don't need to switch off old but profitable workspaces. Just create a new one.
Running unlimited projects allows you to:

Keep your social posts organized for clear tracking.


Instantly create unlimited new posts for automated posting.
Import the DFY posts instantly into your projects
The No-Limits Connection ensures:

You never have to worry about which audience will be hearing from you this week. Communicate with them anytime you want by posting on all your social channels.


Increased profitability by giving you wider-than-before reach. Reach that can be converted into attention and sales without stepping outside your home.
You can help unlimited clients and not have to say "sorry, not today" to them when they want you to drive traffic for them.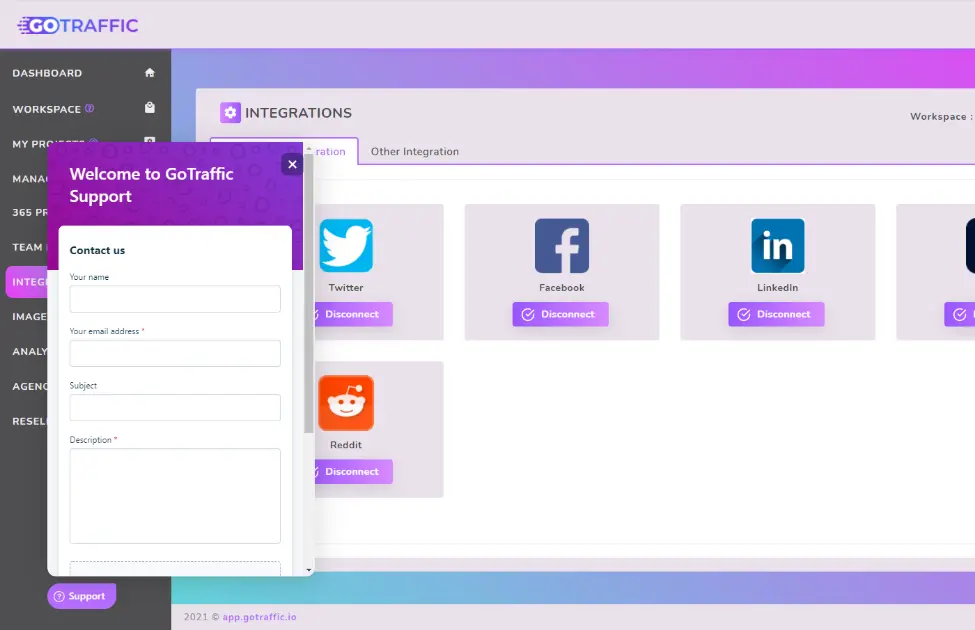 Running unlimited projects allows you to:

You don't have to wait long for your queries to get answered and your issues to get resolved.


You can move fast between different workspaces and projects.
You work with complete confidence knowing that a dedicated team is there to back you up.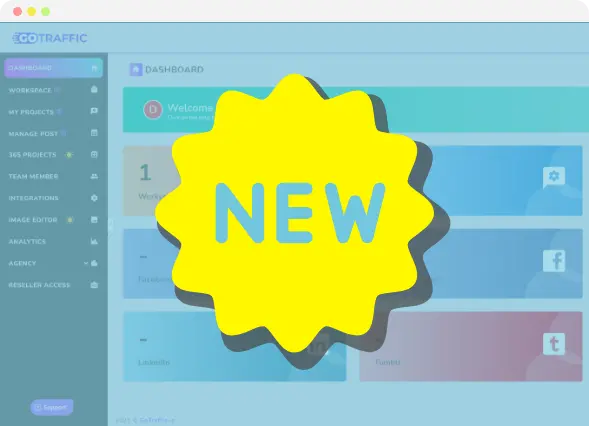 GoTraffic Unlimited Helps You Sell MORE And Profit MORE
When you run more social media campaigns with unlimited rights, you are bound to make more profits.
Combine this with the GoTraffic Commercial License you just picked up as a special bonus. Now the ability to run UNLIMITED social media traffic campaigns will result in a cash windfall for you.
Imagine the kind of money you can make offering social media services to your clients! 
Features That Will 10x Your Results With GoTraffic Unlimited.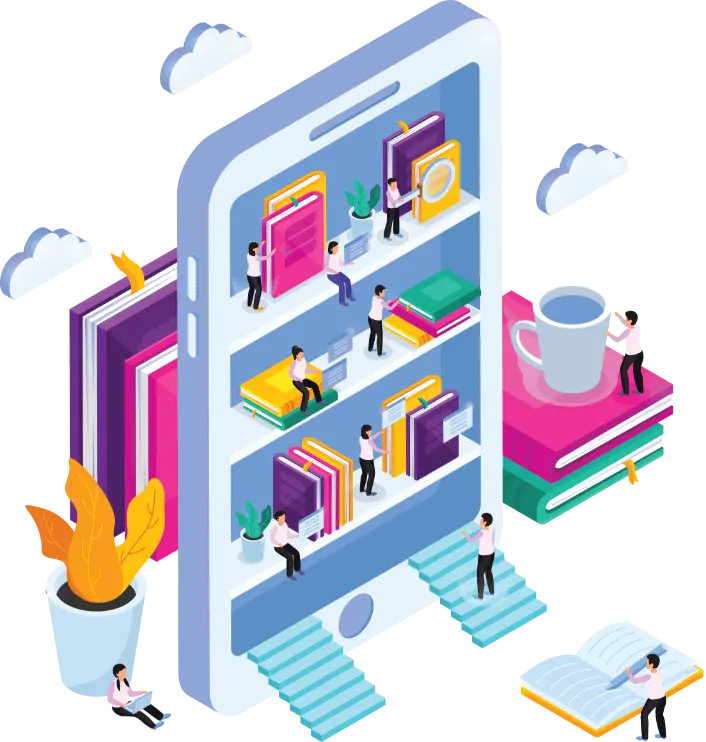 We have decided to add MAJOR value to the GoTraffic Unlimited for you.
When you get access to this upgrade, you also unlock our built-in library of 20,000 extra prompts, post ideas, quotes, images, and so much more.
This library is hidden from everyone else, but we share this with you, so you can select new ideas whenever you feel like it.
There's no reason to worry - just click a button, and new content ideas will be populated for you! And there are THOUSANDS of them.
This library is being sold later in the funnel for $67. But it's yours for FREE when you upgrade to GoTraffic Unlimited on this page..
This is amazing, right? And it's all yours for a LOW price today.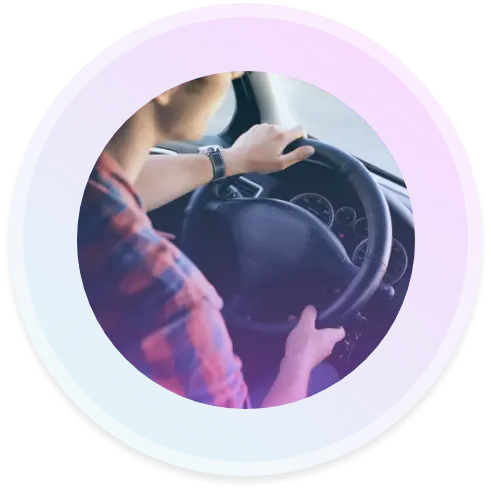 I am sure you already know this. The costs of offering UNLIMITED workspaces, UNLIMITED projects, and UNLIMITED social connections are VERY high for us.
We had to create this software to scale, which cost us a lot of money and would continue to do so.
Keeping that in mind, we can ONLY offer GoTraffic UNLIMITED at $97 per year for an extremely limited period.
This has been heavily discounted from $497 per year. 
Remember, as a new GoTraffic member; you get to avail this offer ONLY today. Being an action-taker myself, I respect that in marketers and entrepreneurs.
This offer is especially being made to the new GoTraffic members to serve as a reward for taking action today.
If you let this offer pass you by and later decide to get it…you will have to pay $497 per year.
THIS is your one & only chance to get access to GoTraffic UNLIMITED at a discounted price.
So click below to upgrade your GoTraffic account automatically.

UNLIMITED Workspaces

UNLIMITED Projects

UNLIMITED Social Connections

DEDICATED Support Team
UNLIMITED Content Library

ADVANCED Image Editor

Background Gradient Effects

Background Pattern Effects

Advanced Image Customization Properties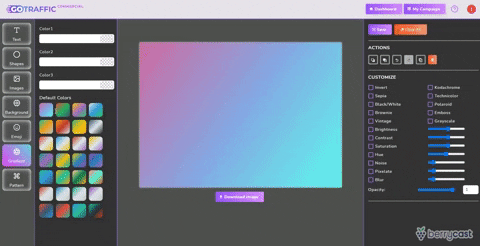 Background Gradient Effects
Beautifull gradient effects, choose one of the existing or create your own. This will give a perfect design touch to your posts!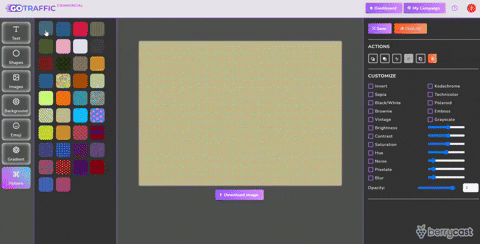 Background Pattern Effects
Make your design pop with this
awesome pattern effects, made just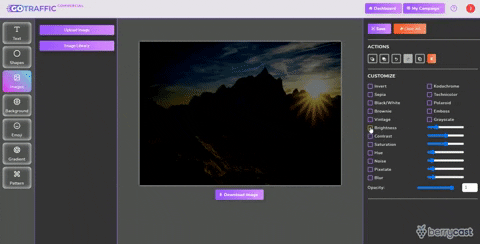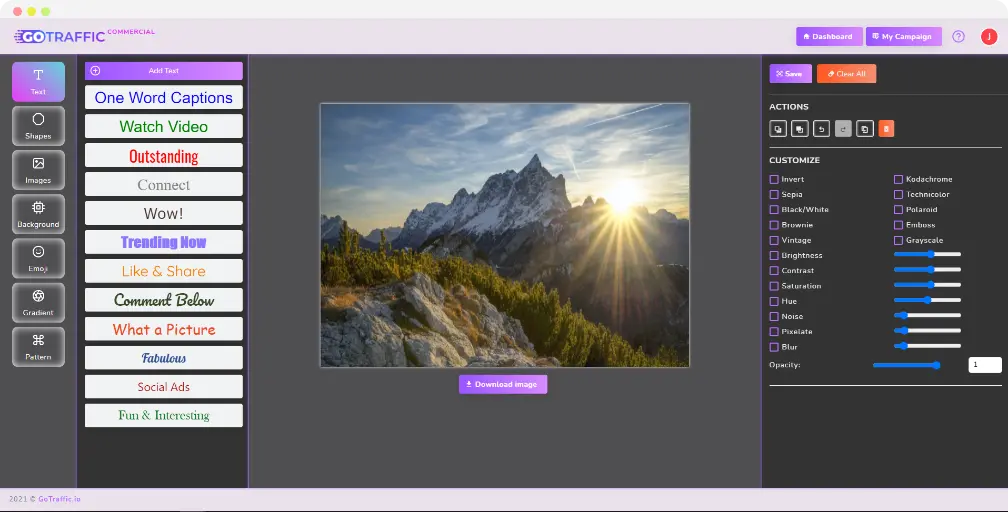 This includes additional features such as:
This will never be made available at